DUE TO TECHNICAL ISSUES, THIS WEBSITE HAS NOT BEEN EDITED FOR SOME TIME BUT IS NOW BEING UPDATED.
Welcome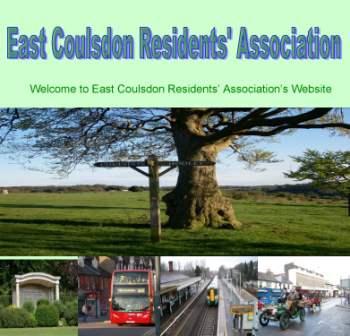 If you would like to be included in E-blast which is sent out on issues which are of interest in and around Coulsdon please e-mail ……………………. to ask to be included in this service
ECRA stands for the East Coulsdon Residents' Association who represent the interests of the residents within the East Coulsdon Ward within the London Borough of Croydon. The Committee, who are all volunteers, try to protect the area from over or inappropriate development. Through our Councillors or through direct action other matters of concern, such as parking or trees, rubbish and re-cycling collections and the like are raised with the Council. You can e-mail ECRA at………………………….
ECRA encourages residents to  become involved by direct action. We also represent those interests to wider bodies such as Transport for London (TfL) Network Rail and Sothern Railways, Coulsdon Forum,  Croydon Council,  GLA, City of London, Road safety, Green Belt and Environmental Sustainability, Policing and Neighbourhood Watch / Police Ward Panel and we keep an eye on all of the current planning applications in the area, objecting or supporting where appropriate or necessary, including supporting Old Coulsdon Residents' Association (OCRA) http://www.theocra.org.uk/ Coulsdon West Residents' Association (CWRA) – http://www.cwra.webs.com/ , Hartley & Distric Restidents' Association (HADRA)  – http://www.hadra.org.uk/  and other Residents'' Association in the area if required or necessary.
The Ward Councillors for Old Coulsdon Ward are Margaret Bird   and Steve Hollands   and for Coulsdon Town Ward are Luke Clancy – Mario Creatura  – Ian Parker   attend our Committee Meetings when they can – at least one of them will be there and often all three – so that they can raise matters of concern or interest with the Officers of the Council, other Councillors and organisations and report back their findings or actions to be taken.
We publish the very popular Review which Alison Sleight and Eric Jenkinson our Editor produces so well and which is published 4 times a year and delivered to all Members and is also put into libraries and supplied to other Residents' Association who request it. They welcomes articles of interest to include in The Review . It is the advertising which largely pays for the publication of this magazine but is subsidised from membership fees. If you would like to advertise in The Review please contact Alison  whose details are under Committee Members . You can join ECRA for the sum of £3 per year by contacting our Treasurer or to one of our volunteer Road Stewards who deliver The Review and collect the subscriptions, which you can now pay be Standing Order by contacting our Treasurer. These volunteers are highly valued by ECRA and should you like to become involved and volunteer to become a Road Steward we would be delighted. We would also be delighted should residents like to put themselves forward to become members of the Committee. AGMs are usually held in June  at Old Coulsdon Congregational  Church, Opposite Tudor Parade, Old Coulsdon 7.30 p.m..
Social events are arranged by us from time to time.  This includes Quiz nights jointly with Friends of Farthing Downs & Happy Valley www.friendsoffarthingdowns.co.uk  and, of course, Christmas dinner. Again we would welcome help and any ideas for additional outings. Visit the Dates for Your Diary to find out current events on offer.
Within the ECRA area is the very popular Farthing Downs and Happy Valley with its Saxon burial mounds and Iron Age field system which is a stone's throw from Coulsdon South Station and the A23. This is managed by the City of London Corporation  – http://www.cityoflondon.gov.uk/Corporation/LGNL_Services/Environment_and_planning/Parks_and_open_spaces/City+Commons+Division.htm. The area has been awarded Green Flag – http://www.keepbritaintidy.org/GreenFlag/ status – an independently judged award given annually to the best parks and green spaces in England and Wales. Friends of Farthing Downs run many events throughout the year, a current list of which can be found on the Dates for Your Diary Page.  Also within the area is the Marlpit Lane Recreational Ground with its Children's playground,, Bowling Green  Putting Green, tennis, netball and basketball courts. We are please to say that the Poppy Cafe is now re-opened and ECRA have been working with the Friends of Marlpit Lane Bowling Green to maintain the  bowling green in use for the public which is run by volunteers and is open in the afternoons during the late Spring and Summer – weather and volunteers permitting..
In the pages which follow is information which we feel would be of help and interests to our residents and anyone new to the area or thinking of moving here.  Should you wish to contact us the e-mail address is ……………………
Advertising – If you wish to advertise with us in our magazine 'The Review' which is distributed to over 2000 households and libraries. Please contact Alison Sleight the Editor of 'The Review' who will be pleased to hear from you.
Recruitment to ECRA – Should you wish to get involved with ECRA as a Committee Member, Road Stewart or helper we will be very please to hear from you. Please contact one of the Committee Members.
ECRA RULES
THE EAST COULSDON RESIDENTS' ASSOCIATION : RULES 1
1. The Association shall be called "THE EAST COULSDON RESIDENTS" ASSOCIATION"
2. AIMS :
(a) To advance and protect the interests of the Residents and enhance the amenities of the district.
(b) To ascertain the opinions of the Residents and to lay such opinions before the appropriate Authority when desirable.
(c) To promote such cultural and social activities as may from time to time be deemed desirable.
(d) To co-operate with other Organisations in any of these aims.
3. The Association shall be non-party and non-sectarian.
4. All adult Residents in the East Coulsdon Area (as defined by the map on the web site) shall be eligible for membership.
5. The Executive Committee has the right to refuse or revoke membership of persons who act contrary to the aims of the Association.
6. The minimum annual subscription shall be such as is recommended by the Executive Committee from time to time and approved by the Annual General Meeting, which shall cover all adult members of the same family unit resident at the same address. Subscriptions are due on 1
st April in each year and payment thereof shall constitute membership "except those excluded under rule 5".
7. The Officers of the Association shall be a Chairman, Vice-Chairman, Honorary Secretary, Honorary Treasurer, and such Assistant Honorary Secretaries and/or Treasurers as may be considered necessary, all of whom shall be elected at the Annual General Meeting.
8. The Executive Committee shall consist of the Officers, together with up to fifteen other members as the Annual General Meeting shall determine; five to form a quorum. The Executive Committee shall hold meetings as required, and shall have power to co-opt members either to fill vacancies on the Committee or in a consultative capacity.
9. In the event of a vacancy arising, the Executive Committee shall have the power to co-opt members until the following Annual General Meeting.
10. The Treasurer will be responsible for the Accounts and cheque books. All cheques will require two signatures from authorised officers.
11. Any nominations for Officers, other members of the Executive Committee and Honorary Auditor made before the Annual General Meeting must be in the hands of the Honorary Secretary in writing seven clear days prior to the date of that meeting.
12. The Annual General Meeting shall be held in May or June. Further Special General Meetings shall be held whenever the Executive Committee so decide.
13. An Extra Ordinary General Meeting may be called at any time on application in writing, stating the object for which such General Meeting is desired and signed by no fewer than twenty members. No business other than that stated on the Agenda shall be dealt with at the Meeting.
14. The Audited Accounts for the previous year ended 31
st March shall be presented to the Annual General Meeting and an Honorary Auditor shall be elected at that meeting to act for the current year.
15. Notice of each Annual General meeting with the Agenda and Audited Accounts shall be available to Stewards and be published on the web site at least fourteen days prior to the date of the meeting. At least seven clear days" notice shall be given of other General Meetings.
16. The Association shall not be dissolved except by the vote of two-thirds of the members present and voting at a General Meeting, on the Agenda of which shall appear the question of dissolution.
17. On dissolution any surplus funds shall be paid to local charities to be decided by the outgoing Executive Committee.
18. No alteration to these Rules shall be made except by a two-thirds majority of those present and voting at a General Meeting, on the Agenda of which shall appear the proposed alterations. No Rule shall be amended within twelve months of a previous decision on a proposal to amend such Rule, except upon the recommendations of the Executive Committee and all notices of suggested alterations shall be sent to the Honorary Secretary in writing at least twenty eight days prior to the AGM.
19. The Executive Committee shall have the power to discuss and act upon any matter consistent with Rules 2 and 3.
20. The Executive Committee shall have the power to appoint sub-committees as may be deemed advisable for special purposes, and if considered necessary may co-opt on such sub-committees any member or members of the Association. The Chairman and Secretary of the Association shall be ex-officio members of all sub-committees.
21. Only the Executive Committee or persons authorised by the Executive Committee have the authority to speak for or act on behalf of the Association.
22. Any person purporting to represent the Association without the Authority of the Executive Committee will have their membership revoked.
23. Decisions at General or Committee Meetings, except where otherwise provided for in these Rules, shall be taken by a simple majority vote of members present and voting. Voting shall be by show of hands unless a ballot is demanded by at least a third of the members present.
Adopted AGM June 2010