Welcome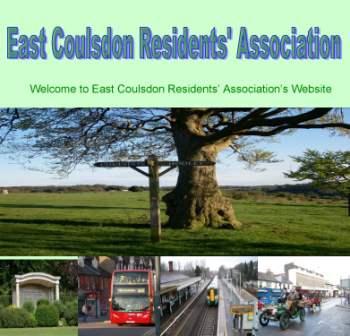 April 2020: Read our Coronavirus update 
The East Coulsdon Residents' Association, or ECRA, represents the interests of residents within the former East Coulsdon Ward within the London Borough of Croydon (see ECRA areas for details).
The Committee, who are all volunteers, try to protect the area from over or inappropriate development. Through our Councillors or through direct action other matters of concern, such as parking or trees, rubbish and re-cycling collections and the like are raised with the Council.
ECRA encourages residents to become involved by direct action. We also represent those interests to wider bodies such as Transport for London (TfL) Network Rail and Southern Railways, Coulsdon Forum,  Croydon Council,  GLA, City of London, Road safety, Green Belt and Environmental Sustainability, Policing and Neighbourhood Watch / Police Ward Panel and we keep an eye on all of the current planning applications in the area, objecting or supporting where appropriate or necessary, including supporting Old Coulsdon Residents' Association (OCRA), Coulsdon West Residents' Association (CWRA), Hartley & District Residents' Association (HADRA), and other Residents' Association in the area if required or necessary.
Our Councillors attend our Committee Meetings when they can, so that they can raise matters of concern or interest with the Officers of the Council, other Councillors and organisations and report back their findings or actions to be taken.
The Review
We publish the very popular Review, produced by Alison Sleight and Eric Jenkinson. It is published 4 times a year and delivered to all Members, it is also put into libraries and supplied to other Residents' Associations who request it. They welcome articles of interest to include in The Review . It is the advertising which largely pays for the publication of this magazine but is subsidised from membership fees. If you would like to advertise in The Review please contact Alison whose details are under Committee Members .
You can join ECRA for the sum of £3 per year by contacting one of the committee or one of our volunteer Road Stewards who deliver The Review and collect the subscriptions, which you can now pay by Standing Order by contacting our Treasurer.
These volunteers are highly valued by ECRA and should you like to become involved and volunteer to become a Road Steward we would be delighted. We would also be delighted should residents like to put themselves forward to become members of the Committee. AGMs are usually held in June  at Old Coulsdon Congregational Church, Opposite Tudor Parade, Old Coulsdon 7.30 p.m..
Social events are arranged by us from time to time.  This includes Quiz nights jointly with Friends of Farthing Downs & Happy Valley  and, of course, Christmas dinner. Again we would welcome help and any ideas for additional outings.
Within the ECRA area is the very popular Farthing Downs and Happy Valley with its Saxon burial mounds and Iron Age field system which is a stone's throw from Coulsdon South Station and the A23. This is managed by the City of London City Commons Division.  The area has been awarded Green Flag  status – an independently judged award given annually to the best parks and green spaces in England and Wales.
Friends of Farthing Downs run many events throughout the year. Also within the area is the Marlpit Lane Recreational Ground with its Children's playground, Bowling Green, Putting Green, tennis, netball and basketball courts.
……………………
Advertising – If you wish to advertise with us in our magazine 'The Review' which is distributed to over 2000 households and libraries. Please contact Alison Sleight the Editor of 'The Review' who will be pleased to hear from you.
Road stewards  – we have a number of openings for new stewards whose work we very much appreciate. Get in touch with us if you're able to help.
Recruitment to ECRA – Should you wish to get involved with ECRA as a Committee Member, Road Steward or helper we will be very please to hear from you. Please contact one of the Committee Members.