SMART PHONE NATURE TRAIL

THE CITY OF LONDON
The Downs are adminstered  by the Corporation of London (City of London) acquired through the Epping Forest Act and the Open Spaces Act – adopted in 1878 as a result of concern about building development and is in the heart of the Green Belt. The legislation enabled the Corporation of London to acquire open spaces within 25 miles of the City for the 'recreation and enjoyment' of the public'.
The Downs cover 120 acres which is largely grassland. In summer it is a riot of colour. There is a well sign-posted circular walk. The City Of London Rangers' conservation work includes the managementof cattle and sheep to 'mow' the grasslands re-introduced to The Downs a few yers ago.  They have put up new benches whose tops are made from felled trees; maintain the fencing and often give talks and lead walks.
The City of London (Farthing Downs) Emergency telephone number – 01372 279488 – http://www.cityoflondon.gov.uk/Corporation/LGNL_Services/Environment_and_planning/Parks_and_open_spaces/City+Commons+Division.htm
For a booklet on ten more walks in and around Happy Valley please e-mail
If you would like to get involved in hands-on outdoor work why not think about helping the Rangers on Farthing Downs, the work is rewarding and you can help to conserve and protect an important wildlife and archaeological site..  Contact the City of London's Ashtead Office on 01372 279083 or e-mail
FRIENDS OF FARTHING DOWNS EVENTS
Dates for your diary – Please ring or email for more details
Health Walks – We run regular walks on Farthing Downs and Kenley Common throughout the year. For further information, please ring us or go to the Walking for Health website http://www.walkingforhealth.org.uk
Volunteer days
Every Thursday 9.45am – Ashtead Common Volunteers.– Chain Gang Volunteers @ Coulsdon Common.
Thursday 10am – Riddlesdown Volunteers.
Sunday 10am – New Hillbillies Volunteers @ Farthing Downs & New Hill.
Tuesday 10am – Kenley Volunteers @ Kenley Common.
Friday 10am – WWaSPs Volunteers replace bench tops & repair a chestnut fence at
Spring Park.
WEDNESDAY, 27th SEPTEMBER: Illustrated Talk: Windmills and Water Mills around Coulsdon: The Retirement Centre, Old Coulsdon* 7.15 for 7.30 p.m.:  Gwyneth Fookes of the Bourne Society says 'You wouldn't believe how many wind and water mills there were within half an hour's drive of Old Coulsdon and how many are still to be found. Parts of Coulsdon's windmill still exist! Come along and find out more. Contact 01737 554449 or email for more information and to book.
SATURDAY, 27th SEPTEMBER:  Autumn Quiz Night:  Cameron Hall, Congregational Church, Old Coulsdon, 7.00 for 7 30 p.m. Joint social and fundraising evening with East Coulsdon RA, Quiz Master Malcolm Newman. Tickets £9.50 per player for teams of up to eight includes fish, chicken or vegetarian supper, soft drinks, tea and coffee. Contact: 01737 554449 or email to book.
Saturday 1st November – Annual Fungi Foray – 10.30 am. Meet Ray Tantram of the Surrey Wildlife Trust in Farthing Downs Car Park for our annual fungi foray through HappyValley, New Hill and Farthing Downs.  There is always something new to see.
.
CITY OF LONDON – DIARY DATES
See the diary page of this website for dates of events arranged by Friends of Farthing Downs as well as other events in the area
A summary of the latest news from around the City Commons. For further information: Telephone 01372 279083 or email out more about the City of London and its open spaces at: www.cityoflondon.gov.uk/citycommons
Sunday 14th September 2pm-3pm  Galled by oak galls on West Wickham Common  Tiny insects create strange structures on mighty oaks – see some of nature's intricate patterns of life.  Meet Andrew at the Common's car park (very limited parking) at the junction of Croydon Road and Hartfield Crescent, West Wickham. No need to book.
Friday 19th September 8pm–8.45pm  Discover oak-bush crickets on Coulsdon Common  Join Andrew and bring a torch to search for these nocturnal grasshopper relatives as they look for places to lay their eggs. Meet by the Merlewood Estate Office, Ninehams Road, Caterham. Booking is required.
Dates for your  diary – Please ring or email for more details
WALKING FOR HEALTH AND NATURAL ENGLAND
Walking for Gold seeks local walkers to join them!
The City of London are developing a new scheme under Natural England's Walking for Health programme.  The walks are aimed to encourage people who don't get much opportunity to exercise, to get out in the fresh air on their local open space.  The walks are all led on a fixed route and are as much about the social aspect as the exercise!  Your local group at City Commons is called 'Walking for Gold'.  The City will provide free walks for absolute biginners; trained walk leaders; a friendly local group to walk with; a change to kick-start tht health regime; safe routes using your local open space; consideration of your health needs; opportunities to get involved and lead walks as part of the team.  You can find out more  details about the scheme on Natural Englans's website  on  http://www.wfh.naturalengland.org.uk/
Walking for Gold! is a free local health walk scheme that was launched on Kenley Common on 7th October. We were very pleased to welcome our first walkers who were all very friendly and enthusiastic. Our bronze level walk is led by a trained walk leader around the airfield track. This walk runs every other Friday and is suitable for all abilities, so come and join us for some fresh air and exercise. Dates for December is the 16th but we will be back in the New Year! Please call to book your place or suggest new routes call on 01372 279083.
We would like to expand our scheme. Is there somewhere you would like to walk within the security and support of a walking group? We welcome suggestions for new routes.
Walking for Gold! is part of the Green to Gold initiative run by the City of London Corporation in support of the London 2012 Olympic and Paralympic Games. It aims to encourage green exercise and healthy living on the open spaces which are maintained by the City of London Corporation at no cost to the taxpayer.
If you'd like to volunteer as part of our team, we can offer you training as a Walking for Health Walk Leader. Please contact us by telephone, 01372 279083, or email
You can also see the full walks programme by logging onto
http://www.wfh.naturalengland.org.uk/walkfinder/london/croydon-walking-for-gold
The Bourne Society also have walks.  Click here for leaflets from their website. http://www.bournesociety.org.uk/bournesoc/  Their new website is now operational  with many new features at http://www.bournesociety.org.uk which included the Smitham Bottom Historical Trail.
Dear Members
We were delighted to hear at our May committee meeting that the City has gained Higher Level Stewardship Scheme funding (HLS) for management of the Coulsdon Commons for the coming decade.  The new agreement with Natural England was signed in April and Rangers are currently producing a year by year work plan to implement the scheme on Farthing Downs. The HLS requires more complex environmental management focused on delivering significant environmental benefits and, for the duration of the ten year agreement, the Ranger Team will be working with local advisers from Natural England to set up a management programme aimed at achieving these benefits.  So how will this affect visitors to the Downs?  In the first instance we will notice that grazing will be more prescriptive and the Sussex cattle, introduced some fifteen years ago or more, will be grazing the Downs for shorter periods and not necessarily all year round and there will also be restrictions on grass cutting.  The field in front of the cottages used for parking by visitors to last year's Fun Day is no longer available, as parking will disturb the potential of the site and this year a bus service from Lion Green car park brought visitors to the Downs – the bus organised by the City was a great success and is likely to be a regular feature of the event. A tree survey has already been carried out and residents will have noticed that some older diseased trees have been removed.  One of a number of improvements Natural England are looking for will be an increase in the number of rare chalk grassland species, like the Greater Yellow Rattle and management of the Downs will be further enhanced to encourage this. The HLS is being targeted in areas in England where Natural England are seeking the most environmental benefits for wildlife, landscape, the historic environment and resource protection. Farthing Downs, along with the other five Coulsdon Commons, are suitable sites for this additional HSL funding.  We will be organising a meeting with the Rangers in the New Year to enable members to find out more and ask questions about the Scheme and the new management plans – details to be published in the Events Diary to be circulated later this year.
Why not be a volunteer helper?
If you're interest in conservation, community enhancement, need work experience in the countryside, want to learn new skills and meet new people and have available free time, now is the right moment to become a Farthing Downs volunteer. Volunteers work with the Rangers on Farthing Downs, New Hill, and Woodplace Farm Fields carrying out conservation tasks ranging from hedge planting, bench making, scrub bashing, ragwort pulling, clearing boundaries, and footpath regeneration.  Volunteers can also become involved in archaeological protection and stock checking (grazing animals). For more details contact: Ashtead Common Estate Office at Woodfield Road, Ashstead, Surrey, KT21 2DU:  Tel: 01372 279083; email: .
Historic brochure comes to light
In June this year we received a letter from Scotland.
To Friends of Farthing Downs
Hello there. I have a recycle/community shop in Angus Scotland. I came across the enclosed little brochure advertising The Welcome Tea Rooms and wonder if you would like it for your local history etc.? It was placed inside an old book so obviously meant something to an earlier visitor to your area! I checked on the internet and came across your committee. I hope you can use it. Regards . . .
The brochure is double-sided folded in two to give four 6″x4½" pages. Proprietor: H. Goddard, Phone: Merstham 177.  The brochure says "Come by 58, 59 and 414 Omnibuses or Electric Trains to Coulsdon North. . . Large and small parties catered for. Seating accommodation for 1,000." From the picture, The Welcome Tea Rooms appear to have been a large building behind the cottages, not the tea and cakes served from the back of one of the cottages that most of us remember. Notice the swingboats and the charabancs bringing day-trippers. So when was this brochure produced?
From Redhill and Reigate History Society, I learned that Merstham exchange opened in 1910 and had only 43 lines at 1st January 1911. The Downlands exchange started as a hypothetical exchange at Merstham
on 16th June 1930 and subsequently moved to Hollymeoak Road, Coulsdon. Telephone number Merstham 177 seems to have existed between 1918 and 1930. The LondonTransportMuseum informed me that
Routes 58, 59 and 414 served Coulsdon from1924 to 1934, 1922 to 1986 and 1924 to 1992 respectively. Electric trains (overhead system) served Coulsdon North (but not Coulsdon South) from 1925 to 1929.
So our brochure dates from the late 1920s.  Do you remember the original Welcome Tea Rooms? We'd love to hear from you.
GREEN BELT ENTHUSIAST TAKES CHAIR OF THE FRIENDS
At the inaugural AGM in May this year members approved the appointment of local resident Graham Lomas as Chair of the Friends for the coming year. Graham is a founder member of the Coulsdon Green Belt Action Group and ECRA's London Green Belt delegate.  He moved to Woodplace Lane from Coulsdon West five years ago and almost immediately became involved in Green Belt issues and a fund raising campaign for the purchase of Woodplace Farm Fields, land adjoining the Downs, in a joint venture with the City. Local people raised £55,000 which helped the City of London acquire the land. At the time everyone had felt that this proved a positive working relationship with the City.  As a result of the campaign the Superintendent at the time, Mike Enfield, initiated both the Friends of Farthing Downs and the Friends of Kenley Airfield, the integrity of both sites having been under threat from development.  Both Woodplace Farm Fields and Hooley Farm provide a vital 'buffer zone' which helps protect the fragile existence of wildlife habitats that the Downs provide.  Any development on land close to the Downs needs to be considered in these terms. Graham pointed that over the past ten years many sites including Green Belt land have been sold to developers. We all need to be more and more aware that this land is under threat if, as suspected, Government were to change Green Belt policy and reduce the powers of local authorities over future developments.
Graham gave a brief summary of the history of the group saying that since its formation in 2005 it has made good progress working within informal terms as a low key voluntary organisation backed by the City of London.  Graham reminded those present that the City of London has owned and run Farthing Downs for one-hundred-and-thirty years along with other nearby local commons but until recently had had no cause to work with voluntary groups. Graham felt sure that everyone present would agree that now is a good time for the group to take stock of past achievements and move forward.
Other appointments at the AGM included: Vice Chair, Brian Lancaster (Croydon Natural History and Scientific Society); Treasurer, Ian Payne (East Coulsdon Residents' Association (ECRA)); Secretary, Pauline Payne, (ECRA).  The group needs new volunteers and will welcome offers of help and new members to the committee.  Please contact the Secretary on 01737 554449 or email:
GREEN FLAG AWARD 2012-2013
Thel Green Flag Award  was once again awarded to  Farthing Downs in 2013..  Neil Sibley, one of the Farthing Downs Rangers, inveiled the Flag which was won by the Farthing Downs team which includes himself and collegue Steve Bruce.  The Green Flag was awarded for their work to keep the Downs to an excellent standard and for meeting additional criteria which includes ensuring that the site appears welcoming to visitors and has a good community involvement.  After the short ceremony, Neil invited members back to the Barn for a cream tea as a thank you to both the Friends and the New Hill Billies for their help in winning the award by working to give the Downs a higher profile in the community through their events, walks and talks and for essential conservation work. =
SUBSCRIPTIONS ARE DUE
Many of you have paid your subscriptions for 2014 and we would like to take this opportunity to thank you for your support, more particularly those who added a donation to the basic amount.
Your committee has decided that individual acknowledgments will not be sent in order to avoid the cost of postage and stationery but if anyone needs a receipt, please send a SAE to the Treasurer with a note requesting confirmation of your payment.
A brief reminder that subscriptions for 2014 fall due in January and we very much hope that you will continue to support the work and activities that we carry out on Farthing Downs.
Kind Regards,
Friends of Farthing Downs Committee  – Email:
C/o 42 Bradmore Way, Coulsdon, CR5 1PA Tel: 01737 554449                          March 2014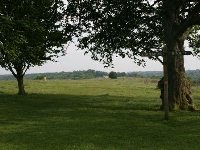 Farthing Downs and Happy Valley are in the heart of the East Coulsdon Area which is a short walk from Coulsdon South Station and the bus stop at Marlpit Recreation Ground and is a Site of Special Scientific Interest.  Summer and winter views from the top of Farthing Downs.  This is the link to The Corporation of London webiste for information on West Wickham and Coulsdon Commons. http://www.cityoflondon.gov.uk/Corporation/LGNL_Services/Environment_and_planning/Parks_and_open_spaces/West_Wickham_and_Coulsdon_Commons/West+Wickham+management+plan.htm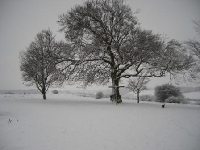 FRIENDS OF FARTHING DOWNS
Help support the work of the Friends of Farthing Downs – The Friends work in partnership with the City of London, and in addition to helping shape projects like the new proposed visitor facilities and organising talks and guided walks, there are many other ways the Friends can help protect and enhance this unique site. We can work as independent group to campaign to protect the Downs from possible development or actions which may affect its value as a Site of Special Scientific Interest (SSSI) or its ancient archaeology. Friends can raise funds for community projects on the Downs and acquisition of land adjacent to the Downs.
A fund raising campaign by the Coulsdon Green Belt Action Group helped the acquisition of Woodplace Farm Fields, now managed by the City as a local open space. In 2006 the Friends won funding to support an archaeological survey on the Downs carried out by volunteers organised by English Heritage. We currently have contact with local schools with a view to organising a programme of walks for children which will complement their school work.
Pauline Payne, ECRA Committee Member and the Editor of 'The Review' is a founder member of the Friends of Farthing Downs. If you would like details about guided walks, more information about the Friends or both please contact Pauline Payne on 01737 554449 or email   – Go to Dates for Your Diary page to find a list which includes events organised by the Friends.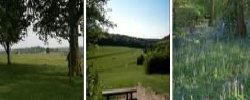 A Celtic field system was discovered in 1939 during the building of anti-aircraft trenches. In 1948 and 1949 a Saxon cemetery was discovered dating from the late 6th and 7th centuries. Some 20 burial barrows were found, along with many other flat graves.
There is a Folly at the top of the Downs (shown in part in the first photo above) with a sign post pointing the way to Coulsdon, Hooley…….
The photo also shows in the background the Millennium Cairn which contains a time capsule and has a metal plate giving pointers to various places of interest. The cairn was unveiled in October 2000. From here there are magnificent views all around.
The Corporation re-introduced cattle to The Downs in 1994 as the most efficient way to maintain the land as traditional chalk grassland.
The road over the Downs was the original Brighton Road before the Prince Regent instigated the building of the new Brighton Road – now known as the A23 – so that he could get to Brighton and his Pavilion as quickly as possible.
 If you follow the road towards Chaldon you will pass a house which was originally a Coaching Inn. Sadly the swing boats which were once here have long since been removed Further on this road you will come across the ancient pre-Norman Chaldon Church which was recorded in the Doomsday Book.
Happy Valley (shown in the second photo above with the third photo showing the bluebell wood which connect Farthing Downs and Happy Valley) was only turned into an open space in 1937 and 1938, when various local farms were bought by Coulsdon Council as part of the London Greenbelt scheme, which sought to limit the spread of London by preserving a ring of open countryside around the city. It is a Site of Special Scientific Interest for its flora and as a habitat for ground nesting birds such as larks