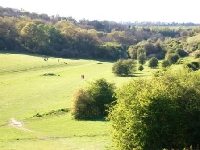 Green Belts are usually elements of national planning policy, expressed through County Structure Plans. However, there are various different measures and schemes which have been referred to as 'Green Belt' and not all of them are the same. The biggest Green Belt in the UK is known as the Metropolitan Green Belt, around London.
There are other major green belts around the West Midlands conurbation, Manchester, Liverpool, and in South and West Yorkshire. This principle was established in 1955. Furthermore, green belts are growing still. Between 1979 and 1993 the green belt area designated in England doubled.
The London Green Belt Council is a grouping of organisations with a concern for the Green Belt around London and was formed in 1955. This is  a group of organisations – and not just  individuals – who meet 3 or 4 times year in Westminster and comments on draft Regional Plans and Local Development Frameworks, making representation on planning applications and appeals.  It issues 'Notes' – a commentary on Green Belt issues.
The principle is that a certain area around a metropolis has certain controls against development in place. Green Belt boundaries – which are precise – are laid out in Local Plans. The Local Plan is the document produced by the planning authority to provide a policy for planning decisions. Land included in the Green Belt must contribute to one or more of the five purposes of the Green Belt set out in Planning Policy Guidance Note 2 (PPG2 Green Belts):
 • To check the unrestricted sprawl of built-up areas.
• To safeguard the surrounding countryside from further encroachment.
• To prevent neighbouring towns from merging into one another.
 • To preserve the special character of historic towns.
• To assist in urban regeneration.
Green Belt in Coulsdon
There are many areas of Green Belt in an around Coulsdon that are open to the public.  These include:
Farthing Downs and New Hill – owned by the City of London
Happy Valley – owned by Croydon Council
Coulsdon Common- owned by the City of London
Kenley Common- owned by the City of London
These form a continuous ~Green Belt area which form part of the London Loop series of footpaths around London.
Cane Hill – owned by the GLA / Barrett Homes
Other green belt areas near Coulsdon include:
Banstead Woods, Chipstead
Oak Park, Carshalton
ASSOCIATION OF CROYDON CONSERVATION SOCIETIES – Green Croydon
If you would like to know more about the wildlife and nature conservation in Croydon then you may be interested in the Association of Croydon Conservation Societies website and the leaflet which can be downloaded from there  http://www.accs-croydon.co.uk/#
The site lets you know of the ACCS members Groups;  The Green Croydon Leaflet'; Croydon's Countryside; Wildlife ares in Croydon; Volunterring and Events; and how to contact them.  Well woth while for a visit.
Alistair Hayes presented to the Friends of Farthing Dowsn AGM and is trying to get funding from the National Lottery to protect this area of the North Downs and resist the pressure for housing on the Green Belt.