UK POWER – POWER CUTS HELP
UK Power Networks, deliver electricity to your home. Power cuts don't happen very often but they understand that they can be worrying – Do you need extra support during a power cut? They  can help, and their services are free to customers who need it.
Power cuts don't happen very often but if the electricity network is damaged or develops a fault it's our job to get your power back on. Their engineers will work around the clock 24/7 to restore your power as quickly and as safely as possible.
To give you peace of mind, if you live in London, the East or South East of England, then being on their Priority Services Register will ensure you will receive extra support if you experience a power cut.
Who can register to receive extra support?
Customers who rely on medical equipment
Customers who are chronically ill
 Customers with a disability
Customers who have dementia
Customers who are blind or partially sighted
Customers who are deaf or hard of hearing
Customers who are of pensionable age
A nursing or residential home
Customers with children under five in their household
 Any other case that you would like us to consider
What help should I expect to get?
A priority number that you can call 24 hours a day
A dedicated team who will contact you to keep you updated during a power cut
Tailored support if needed such as home visits, hot meals, advice and keeping your friends and relatives updated
In certain scenarios we may also offer a free otel overnight and transport to the hotel.
You can also call them on : 0800 169 9970
Click here to find out more
http://www.ukpowernetworks.co.uk/internet/en/power-cuts/priority-services-during-a-power-cut/priority-service-register-application-form/?dm_i=1T2Q,4S40X,J1URRJ,HZAVD,1
Who are UK Power Networks?
Some people still remember them as 'the electricity board'. They own and maintain electricity cables and lines across London, the South East and East of England making sure that your lights stay on. Customers do not pay electricity bills to us.
RETURN OF ONE HOUR FREE PARKING IN COULSDON
As you may know ECRA and the othr RAs have been lobbying the Council to – first of all not to take away the one hour free parking in Coulsdon, replacing with 30 minutes free and 30 minutes paid for.  We also lobbied for a second hour after the one hour free paid for to accommodate those who need longer than one hour for such things as Physio and Dental appointments, hairdressers, etc.  This would still allow for a turnover of vehicles.
See email trail below from Councillor Stuart King, Cabinet member for Transport, Charlie King, Chair and myself of ECRA
Councillor King made the decision to re-introduce one hour free parking in Croydon's District Centres including Coulsdon, for confirmation at the TMAC.  This reverses the decision to remove said one hour free pakring and replace with 30 minutes free and 30 minutes paid for taken by a previous TMAC and Chair.  The re-introductions of the one hour free was confirmed at the TMAC on the 8th February for introduction in July after the required consultation with residents and we will let you know when this is to begin.  Although we asked that the one hour free should be in the whole of the CPZ of Brighton Road and Chipstead Valley Road it is likely that the decision may only return the one hour free to Brighton Road.  When the consulttion comes out we hope there will be the opportunity to have an option to include CVR.
Councillor King says he has sympathy with the second hour paid for and has asked for further, wider input on this idea and in consultation with cabinet collegagues agreed to refer the suggestions to one hour free and a second hour paid for to the Council's recently established Small Business Commission.  See the link below
Representative from small and medium sized enterprises (SMEs) in Croydon are being invited to share their views on how the Council can support companies in becoming more successful.
Town Hall on Tuesday 28th February, is the first tmeeting o be held by the newly appointed commission and will give local business their first chance to speak directly with the commissioners about their experiences and the chanllenges they have faced in trying to grow their business and an important event to attend.
For more information about the event or to register your interest in attending, email .
http://news.croydon.gov.uk/small-business-commission-invites-local-businesses-share-views-barriers-growth/
One of the conclusions of The Business Survey which was undertaken in Coulsdon at the beginning of last year was that parking was a major factor in bringing business to Coulsdon and the removal of Lion Green Road Car Park and reduction in parking timings in the Brighton Road discouraged people from shopping in Coulsdon.
Please take part in the consultations on the one hour free parking when it arrives and should you agree with a second hour free – or your wish to put your voice to the Small Business Commission – whether you support the second hour or not – please attend the event on the 28th February.
ECRA and the other RAs are continuing to push for as much parking as possible within Coulsdon.
20 MPH Proposal
There are conflicting views on the benefits and problems with 20 mph – we should accept that different people have different views and priororities. Now the objection period is closed we have to wait for this to be considered at the Traffic Management Advisory Committee on the 9th May and then referred to Councillor Stuart King, the Cabinet Member for Transport and Environment.
ECRA's view has always been that we support 20MPH limits in individual roads were there is a clear safety case and/or the residents support them but not a blanket ban. We have written to Croydon Council  to object to the way this consultation was being worded in that there was not a simple Yes/No option.
A copy of the ECRA letter to Croydon Council  reproduced here.  Coulsdon West and Old Coulsdon Residents' Association have also written to the Council on this. Once we have a copy of the letter which will be sent by the Council we will update you on timeframe and how to object or support  at the end of April.
ECRA's letter of objection
Dear Sirs,
Re: Proposed Borough wide implementation of 20mph Speed Limits in Residential Roads – 'The Croydon (20MPH speed Limit) (PD/CH/A63 – PD/CH/A62- PD/CH/A61) Traffic Order 20
ECRA wrote to Councillor Stuart King on the 22nd December (copy attached) on our concerns on the Council's proposals to implement blanket 20 MPH limits on all remaining residential roads in the Borough not in areas 1 & 2, other than for a few A & B roads. We objected to the proposed process to be used for areas 3 – 4 & 5.
We have supported and will continue to do so, the implementation of 20 MPH where there is a clear safety case for them, such as outside of schools, colleges, Care Homes etc and / or where the local residents of specific roads have supported or asked for the Council to install 20 MPH limits.  A Blanket 20 MPH will make
There are some roads which we believe should be made 20 MPH for safety reasons and these include:-
Marlpit Lane B276 Between Chaldon Way and Ullswater Crescent which has a dangerous bend and two blind junctions, where people crossing the road to and from the bus stop or to and from the station or to and from the Park have difficulty in crossing this dangerous stretch of road.  Also that cars emerging from Downs Road and Reddown Road cannot see cars which may be speeding down Marlpit Lane at this point.  ECRA has again and again asked for mitigation measures at these junctions.
Coulsdon Town Centre : Brighton Road the Boulevard and the B2032 from Lion Green Road to the traffic lights at the junction of Farthing Way. Chipstead Valley Road  B2032 from Lion Green Road to Brighton Road.
Woodplace Lane.  The area had a separate survey where the residents asked for and have been told a 20 mph speed limit will be installed in this road.
Ditches Lane across Farthing Downs to the borough boundary.
We ask that you take each of the following objections as individual objections to be counted individually as it seems idiotic to have to write individual letters for each objection which has been suggested needs to be done.
We object to the proposed 20 MPH blanket ban in areas 3 – 4 & 5 for the following reasons.
The proposed process for area 3 – 4 and 5 – in comparison to the process allowed for areas 1 & 2 is undemocratic and discriminatory.  The Council gave areas 1 & 2 a vote of yes / no to the proposals and then the chance to object – which has been denied to areas 3 – 4 & 5
The process used by the Council in areas 1 & 2 was a 2-stage process
Stage one – a yes / no vote over a period of 6 weeks. Facilities for physically voting were supplied.
Stage Two – a second period of 6 weeks to allow for comments                  and objections and / or support.
This 2 stage process, including facilities to physically vote, has been denied to areas 3 – 4 & 5 and is undemocratic. . The Council provided various ways for Areas 1 & 2 to respond, including a web page where residents could register their responses on this very divisive issue denied to Areas 3 – 4 & 5..
Areas 3 – 4 & 5 must be given a yes / no vote in the same way as areas 1 & 2 were given.  Without such a vote, the process does not follow normal good practice nor follow normal Council procedures and gives preferential treatment to areas 1 & 2.
The Council is being disingenuous over claims of confusion over the 2 stage process allowed to Areas 1 & 2 but not allowed for Areas 3 – 4 & 5.
If residents do not engage with the process and make no objection then these must not be taken by the Council as supporting the 20 MPH.  Only those who write in and objected or supported the proposals should be included in the count.
Government Guidelines require evidence of community support for changes to speed limits. By only asking for objections the Council is not complying with these Guidelines.  Non- engagement does not give evidence of support. There is no evidence of significant local community support for a 20 mph ban.
Inadequate Notice to the public of the proposals. Late and non-delivery of leaflets to many residents who were therefore unaware of the proposals and /or the details of the proposed scheme and what the Council refer to as statutory consultation was breached.  Very many properties did not receive the notices for the – already – shortened response period (including some of the committee members of ECRA) so given inadequate time to respond.
The Council says that a 20 MPH ban on side roads would improve road safety and cite the number of recorded casualties on Croydon Roads. Whilst ECRA accept that there is research to show that 20mph speed limits have been proven to reduce traffic speeds, reduce accidents and when they occur to reduce levels of injuries. We are puzzled why the Council wishes to reduce the speed on residential roads which have recorded very few accidents and do not come under the A & B roads which the Council is proposing to keep at 30 MPH where statistically most accidents occur.  Residential road in our area have very few injury accidents. – for evidence of this please go to http://www.crashmap.co.uk/ which clearly shows this. Where is the Council's road by road analysis of speeds and accidents. The Council's reasoning behind this statement is disingenuous.
Lower speeds can to lead to more pollution, which, we believe is something which the Council is trying to avoid.
 In an area such as Coulsdon and Purley, the topography and demography (largely an older population) the Council's aim to encourage walking or cycling is an ideal which is unlikely to occur.
We are concerned that impact on journey times, costs and effect on businesses, public transport and emergency vehicles on some of the roads that are included that are not Classified A & B roads, but are main thoroughfares  and bus routes,  Roads such as Chaldon Way, Pampisford Road, Smitham Downs Road, Woodcote Valley Road and Purley Downs Road..  The reduced time to get from A & B will impact on public transport schedules, operations and costs which are likely to be passed on to travellers.
PROPOSED NEW TIMETABLE.
GTR/Southern have published their prosed timetable for 2018
We need you to support the changes at Coulsdon South and Coulsdon Town
Please go to the Transport Page for details of the changes and how to respond
 http://www.southernrailway.com/your-journey/timetable-consultation
WHERE YOU CAN PICK UP THE TIMETABLE COMSULTATION RESPONSE SURVEY.
COULSDON AREA FARM HAS MOVED, ENTRANCE VIA MAIN CANE HILL ENTRANCE IN BRIGHTON ROAD – FOLLOW GREEN SIGNS
TRAIN CANCELLATIONS BY SOUTHERN
GTR/Southern have announced their emergency timetable which will operate from Monday 11th July 2016
Here are the changes from Coulsdon
Coulsdon Town
Only one change the 07.30 Coulsdon Town to Watford will not run
Coulsdon South
The following trains will not run
06.50 to LondonBridge
9.28 to LondonBridge
16.58 to Victoria
17.34 to Victoria
18.33 Victoria
19.32 Victoria
07.43 to Tonbridge (07.28 from LondonBridge).
No changes to Saturday and Sunday as yet
For changes on other route  – New timetables can be down loaded at www.southernrailway.com/revisedtimetable

PURLEY HOSPITAL
Urgent Healthcare in the Borough of Croydon
The Croydon Clinical Commissioning Group have chosen their preferred bidder for provision of urgent care for Croydon  which is to be Croydon Urgent Care Alliance – see below – which is to include provision of a GP Hub to be situated at Purley Memorial Hospital open 8 a.m. to 8 p.m.  We are not sure yet whether this will include access to x-ray facilities but were told in the negotiations that it would be. as the Hub will be run by GP's it is possible that they can refer direct to the x-ray facility but we are trying to get confirmation of this.Fingers crossed.
The 8 Residents Associations in the South of the Borough who, over the last 2 years, joined together to fight the closure of Purley Urgent Care Centre without consultation in 2014 which had been open 8 am to 8 p.m. to be replaced by a Minor Injuries Unit – basically a first aid station – only open from 2 p.m. to 8.p.m. with no access to x-ray facilities.  We had support from our MP, GLA Member and Councillors.
It was an uphill struggle, with very many meetings and much correspondence and twists and turns back and forth and we do not believe we would have the GP Hub situated at Purley Hospital and another in New Addington without our persistence. We await details of the contract.
We are delighted to announce that after a procurement process we have selected Croydon Urgent Care Alliance as the preferred bidder to run a new seamless urgent care service across the borough from April 2017.  Croydon Urgent Care Alliance is a new team made up of Croydon Health Services NHS Trust, the Croydon GP Collaborative and AT Medics.
From spring next year, people living and working in Croydon will have access to a wide range of services run by a team of doctors and nurses to provide seamless expert care.  The new services will include:
Three 'GP Hubs' open 365 days a year, from 8am to 8pm and able to treat all ages.  The GP hubs will increase opening hours and expand the services available at Purley War Memorial Hospital, New Addington Minor Injuries Unit and Edridge Road Walk-in Centre.  The third GP hub will be located at or close to the current walk-in centre service on Edridge Road.  The exact location of this site will be part of the contract negotiations.
24/7 Urgent Care Centre at the front door of the Emergency Department at Croydon University Hospital; which will include the functions of the GP hub for the north of the Borough
A roving GP service will provide urgent home visits to care for local residents and prevent unnecessary hospital admissions;
Out-of-hours GP services will provide rapid telephone advice from trained clinicians from 6.30pm to 8.30am Monday to Friday, and 24/7 over the weekends and during bank holidays.
The new 'GP Hubs' will be led by GPs, and can treat all ages. They will provide all of the same services as the current Walk-in Centre at Edridge Road combined with those provided at the Minor Injuries Units at Purley and New Addington. Local people will be able to get advice and treatment from GPs and nurses for minor illnesses, injuries and ailments between 8am and 8pm, 365 days a year.
As you know, this is a result of extensive engagement with local residents earlier this year to develop a new model for urgent care services which will see services expanded across the borough.  We wanted to take this opportunity to thank you for the part you played in engaging with our proposals.  The 'GP Hub' plans were drawn-up by Croydon clinicians after local residents called for extended opening hours, improved access to urgent GP appointments, and more facilities away from Croydon University Hospital. 
Local residents also asked for a simpler system with clearer descriptions and signposting to the care and support available.  One way we hope to help local residents navigate the new system is encouraging them to "phone before you go" and call NHS 111.  NHS 111 is fast, easy and free to call from landlines and mobiles. Callers speak to a highly trained advisor supported by health professionals, who ask questions to help refer people to the best medical care for their symptoms. This could be taking care of yourself at home, visiting a community pharmacist or being booked in for an urgent appointment at one of the borough's four GP hubs.   We hope that this will also help address an essential element of this new service, to further empower local people to feel confident enough to treat themselves at home. 
We are now working closely with Croydon Urgent Care Alliance to confirm the detail of the contract.  We look forward to building a strong partnership with them over the coming weeks and months to get these services up and running for April next year.
CANE HILL
Whilst not against Cane Hill Development in principle, without the exit onto the A23 the development will cause traffic chaos in Coulsdon with just the exit onto Marlpit Lane Roundabout and a much smaller one onto Portlnalls Road which will affect the roads on the other side of the development, Chipstead Valley Road and ChipsteadVillage..  For those living on the development and wanting to go north towards Croydon and south towards the M25 / M23 if there was an exit onto the By-Pass then they would miss snarling up Coulsdon.  Already, despite the development only partially being completed and due to the other many developments there have been in Coulsdon, there is an increase in traffic and this can only get worse.
ECRA is therefore asking, should you agree that there is a need for an exit onto the By-pass and that you put in an objection against the 6 planning applications which have been put in for the next stage so that there are enough objections and this will go to the Planning Committee.  At the moment the Council are planning to make the decision by Delegated Business (made by the Planners behind closed doors).
We suggest something on the lines of
"We / I object to the Cane Hill Planning applications 16/01707/DT   – 16/01767/RES – 16/01764/RES  – 16/01770/RES  – 16/01773/RES  – 16/01768/RES  on the grounds that there is no access direct to the A23 Coulsdon Bypass and without this exit the traffic in the town centre and local roads will be in tolerable and grind Coulsdon to a standstill at peak and school times. Traffic in Coulsdon with all the development in and around the town centre has risen far beyond that envisaged when the original planning application was approved." ………………Plus anything else you may want to add or take from the letters attached
Joint letter of objection sent from the 4 Residents Associations in Coulsdon and the letter from Chipstead Residents' Association. Surrey County Council have also sent in objection.
Please either write or email and copy to your Councillors, Steve O'Connell and Chris Philp MP, Councillor Tony Newman, leader of the Council and Catherine Radziwonik, Croydon Regeneration Manager.
Laura Field. Case Officer
Development Management
Planning Dept
Bernard Weatherill House
8 Mint Walk
Croydon CR0 1EA
BOOKING OFFICE PROPOSED CLOSURE
PROPOSED TICKET OFFICE CLOSURE AT COULSDON SOUTH
TRAVEL WATCH REJECT THE PROPOSALS TO CLOSE BOOKING OFFICES BUT GTR/SOUTHERN HAVE ALREADY PUT IN REVISED PROPOSALS.
After massive protest by users and local residents On Tuesday  22nd March London Travelwatch  Rejects the proposals to close 51 GTR/Southern  booking Offices in the proposals Present Form
Hopefully this is the end of the threat to close the ticket offices at Coulsdon and Purley and other Croydon Stations.  However, ECRA, Croydon RAs and East Surrey Transport Committee will keep and eye out for any future threat which may arise in the future.
Unfortunately it was not the end and they have so soon come back with further proposals which  ECRA are studying the revised information, but can see little  difference other than the full range of tickets are to be sold
GTR/Southern revised Booking Office proposals
Partial ticket office, Hosted & Concourse sales Point
The stations listed below will have a Host on duty for times significantly in excess of the current ticket office hours. The Host will provide assistance with ticket purchases, information provision and assisted travel at the times shown within the station concourse or gateline areas. These times are the minimum hours that the Host will be available. The Host will have a hand held ticketing system that will enable them to provide tickets that are not available from the self-service machines.
The Ticket Office at these stations will be open in the morning peak hours to ensure that passenger's needs for tickets are met at these busy times (the proposed opening times of the ticket offices are shown below). The primary point for purchasing tickets on the station will be from the self-service machines, from the Station Host or at morning peak time through the ticket office. The Station Host will also have access to a ticket office machine within the concourse area, on a Hosted Point, to enable ticket types, not available through self-service or the hand held machine, to be issued. Each of the stations listed will have a member of staff on duty from the first train of the day until the last train has departed, 7 days a week.
The Ticket Office at these stations will be closed and the primary point for purchasing tickets on the station will be from the self-service machines or from the Station Host. In the event that a ticket type is not available through these machines then the Host will have access to a ticket office machine within the concourse area, on a Hosted Point, to enable those ticket types to be issued, or within the ticket office where space in the concourse is limited. The stations Hosting Point will continue to comply with the regulations and stipulations within Schedule 17 of the Ticketing and Settlement Agreement.  Each of the stations listed will have a member of staff on duty from the first train of the day until the last train has departed, 7 days a week.
| | | | | | | | | | |
| --- | --- | --- | --- | --- | --- | --- | --- | --- | --- |
| Coulsdon South * | Mainline & Coast | 0610–1935 | 0700-2025 | 0910-1640 | 3 | YES | | Mon-Fri 0530-2200 Sat 0600-2200 Sun 0730-2200. Ticket Office closed. | Yes / No |
| | | | | | | | | | |
| --- | --- | --- | --- | --- | --- | --- | --- | --- | --- |
| Purley | Metro | 0555–2005 | 0555-2025 | 0810-1645 | 4 | YES | | Mon-Sat 0500-2200 Sun 0730-2200. Ticket Office closed. | Yes / Yes |
| | | | | | | | | | |
| --- | --- | --- | --- | --- | --- | --- | --- | --- | --- |
| Sanderstead * | Mainline & Coast | 0610-1930 | 0700-1335 | 0810-1625 | 2 | Installed 2016 | | Mon-Sat 0605-2200 Sun 0805-2200. Ticket Office closed. | Yes / No |
| | | | | | | | | | |
| --- | --- | --- | --- | --- | --- | --- | --- | --- | --- |
| South Croydon * | Metro | 0620–1945 | 0620-1945 | 0810-1545 | 2 | YES | | Mon-Sat 0540-2200 Sun 0700-2200. Ticket Office closed. | Yes / No |
| | | | | | | | | | |
| --- | --- | --- | --- | --- | --- | --- | --- | --- | --- |
| Merstham * | Mainline & Coast | 0610–1935 | 0610-1935 | 0830-1640 | 2 | Yes | | Ticket Office 0700-1000 Mon-Fri. Host hours Mon-Sat 0530-2200 Sun 0730-2200. | Yes / No |
| | | | | | | | | | |
| --- | --- | --- | --- | --- | --- | --- | --- | --- | --- |
| Reigate * | Mainline & Coast | 0610-1245 | 0710-1345 | Closed | 3 | YES | | Ticket Office 0800-1100 Mon-Fri. Host hours Mon-Sat 0530-2200 Sun 0730-2200. | Yes / No |
AND MANY MORE
We wish to thank all those who protested  we may ask again in the future once the issues have been studied.
PROPOSED DEVELOPMENT LEADEN HILL ESTATE
PUBLIC CONSULTATION ON 25th AUGUST AT COULSDON METHODIST CHURCH BRIGHTON ROAD 4 to 7 p.m.
The proposal for outline planning permission is for a residential led mixed use development  that will include flexible commercial space at ground level althought Croydon are insisting on indutrial units which is holding up the development.. It is anticipated that the scheme will comprise approximately  70 one, two and three bedroom apartments.
The site is located at the top of Leaden Hill, adjacent to Coulsdon Town Railway Station and comprises three industrial sheds and a collection of temporary structure.  The on-site operation comprises car washing, vehicle sales and repairs whose leases have been extended.
Should you attend the consultation you will get the opportunity to fill out a questionnaire, which will help Oakwood to development the scheme to benefit the local community.
WARFARIN CLINIC RESTORED AT OLD COULSDON MEDICAL PRACTICE
The CCCG  can – occasionally – change (or partially change) their minds!!
As you may be aware, the successful warfarin service which was held at Old Coulsdon Medical Practice (OCMP) was removed by the Croydon Clinical Commissioning Group without consultation or notice and the service and the contract was awarded to Boots in their stores via the pharmacists.
There have been very many protests at this and the inconvenience which this caused to residents/ patients. As a result,  ECRA wrote to Chris Philp MP , the Chair and vice CEX of 'Healthwatch' – Chairs of both 'Health and Well Being Board' and 'Health Scrutiny' at London Borough of Crouton who keep an eye on the doings of  the CCCG who made this decision.  CCCG are not very good at consulting before they act I am afraid
Chris Philp MP received a letter from the CCCG  which confirms that Boots are now seeing patients at Old Coulsdon Medical Practice so, should this affect you or someone you know, please let them know that they should contact OCMP to find when the clinics are held. Please pass on if there are other you may know who could be affected by this change.
CALAT CENTRE CAR PARK OPEN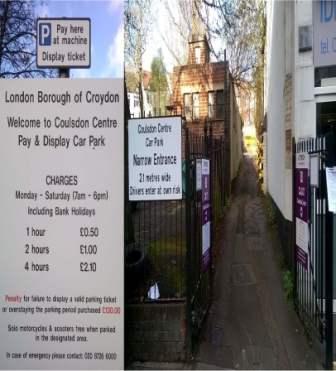 As of the 19th November the CALAY Centre Car Park – with entrance via narrow entrance in Chipstead Valley Road is OPEN.  If your car is less than 2.1 metres wide you will be able to use this car park – you may need to bring your wing mirrors in.
The charges are:
One hour = 0.50p
two hours = £1.00
Four hours = £2.00
Free after 6.00 p.m. and all day on Sundays but not Bank Holidays
A Planning Application for a new entrance from woodcote Grove Road has been submitted.
SUTTON & EAST SURREY NEW LAGOON
Sutton and East Surrey Water Company to increase their reserve supplies of water they has obtained planning permission to construct a Storage Lagoon (reservoir) in the field between Lyndhurst Road and Rectory Lane. They have agreed to keep the local footpaths open during construction which will take up to 3 years. However, the routes down which the construction traffic has been envisaged has Chipstead Valley Road as the main route. Coulsdon West RA, and othersn  are in discussion on restricting the time when this traffic can use CVR, especially during the morning and late afternoon / evening during the rush hours on this very constricted road.
COULSDON SOUTH STATION PROJECT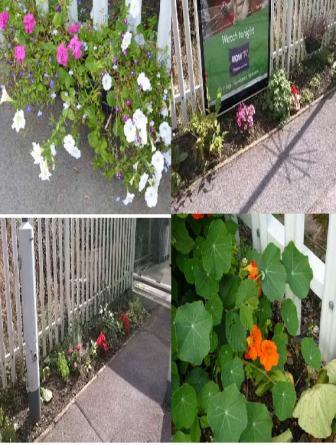 Volunteers from East Coulsdon Residents Association and Friends of Farthing Downs are 'beautifying' Coulsdon South Station by digging up flower beds which have been overtaken by weeds and litter and replacing with flowers.  They are generally working there one day a week – not always the same day – donating plants from their own and others gardens and purchasing flowers and bulbs.  The Station staff have been very supportive of this project and have helped by watering when volunteers are not around or when it does not rain.  Notices with information on Farthing Downs and how to get there from the station have also been put up.
If you have any perenial plants which you are thinning out or extra bulbs we would be pleased to have them to fill the empty spaces in the beds.
YOUR UK DIVING LICENCE CHANGES FROM 8TH JUNE 2015
From Monday the 8th of June all new UK driving licences will be the photo driving licence and no Green Counterpart will be issued. The information on the counterpart is now kept on line. If you wish to view the information you need to log into
www.gov.uk/view-driving-licence enter your driving licence number, post code and your national insurance number. This will enable you to see the class of vehicles you can drive and also any points.
If you hire a car in the UK and Europe they may no longer accept your green counter part as evidence. To enable the car hire company to view your licence you have to log into www.gov.uk/view-driving-licence when you have brought up your licence you can then agree to share the information and you will be issued with a pin number that the car hire company can use.
This pin number is only valid for 72 Hours so if your car hire is in your second week of your holiday you will have to access the site from where you are.
Most Hire companies have said they will continue to accept the Green counter part across the summer, but not all.
Byron School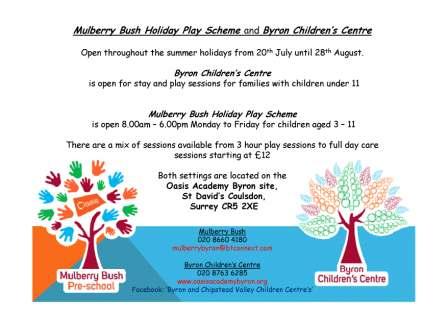 Oasis Byron School has developed from a struggling school to where they are now, on the cusp of outstanding. But they are still not attracting as many local children as they would like.  Please see the posters below and support if this is approriate for you.
DANNY'S IS BEST PLAICE FOR FISH & CHIPS IN BRITAIN
Danny's Fish & Chip  Shop in Old Coulsdon, Tudor Parade, battered the opposition to sine the contest run by Proctor and Gamble.  Danny is often found singing to his customers and says they just buy the best of everything and don't cut corners on quality.  Once they have found a good supplier they go back. They won by getting the most votes by the public.  Danny, his wife Nursen and son Anil wish to thank all those who voted for them to enable them to win, as do his father and mother who started the business 40 years ago.
SPEED LIMIT ON BYPASS NOW RAISED TO 40MPH
Transport for London have now raised the speed limit on the Coulsdon Bypass to 40mph throughout – another success for ECRA
ECRA NOW ON FACEBOOK
The ECRA Facebook page is now up and running. If you're on Facebook, please "like" the page so we can get some traffic to and from and start to make it a bit more useful and interesting. You'll see I've added some basic info, but feel free to add more.  Anyone can view the page, you don't need to be signed up, but you will need to sign up if you want to add anything to it.
https://www.facebook.com/EastCoulsdonResidentsAssociation
ECRA Needs your HELP
Coulsdon is a nice place to live and East Coulsdon Residents' Association (ECRA) is one of the four residents' associations that represent local residents in Coulsdon. We have a very good record of getting things done in our area.  Each quarter we produce the ECRA Review that provides you with local information on what's happening in Coulsdon on: health, traffic and transport, local history and other events in and around Coulsdon. We also have a web site www.eastcoulsdon.co.uk
Coulsdon – the most desirable place to live in London!
Parts of the East Coulsdon RA's area (including parts of West Coulsdon) are ranked as the 132nd most desirable place to live in the UK, out of over 7100 locations. It appears that this may be the highest rated location in Greater London!
http://www.telegraph.co.uk/finance/economics/11041812/Mapped-the-best-places-to-live-in-England-and-Wales.html
Here are some examples where we have put forward the views of our residents' with positive outcome.
Engaged with local developers, e.g. Hadleigh site, Dobles.
Improved train service at CoulsdonSouth & CoulsdonTown.
Increased parking at Coulsdon South station.
Improved bus service on routes 405 and 434.
Lobbied Croydon over the need for more School places in Coulsdon.
Thames Water Flood improvements.
Supported appropriate development in Coulsdon town centre, e.g. Aldi, Pinewood site.
Supported Waitrose distribution centre in Ullswater Crescent with over 400 jobs.
Road safety measures in a number of roads including Woodplace Lane.
Repair of CoulsdonTown centre roads.
Helped save the Bowling Green in Marlpit Lane.
Increase in speed on the Bypass to 40 mph throughout (to be implemented in 2014).
Increased number of residents' parking bays.
Engaged with Croydon Council in discussions on Coulsdon Town Centre and Cane Hill developments.
We run a number of successful social functions each year as a way of 'meeting your neighbour'. These include quiz nights and a Christmas Dinner Dance.
However, we can only achieve these things on your behalf with your help.  ECRA Committee has only eight members most of whom have been shouldering the burden of work for many years. Likewise, many of our Road Stewards have been active for many years and need to step down.
WE NEED MORE VOLUNTEERS TO HELP DISTRIBUTE OUR QUARTERLY NEWSLETTER – THE REVIEW.
We urgently require:
More (up to fifteen in total) Committee members to share the tasks of supporting our community.
Ten new Road Stewards to deliver the Review and collect subscriptions. The Committee cannot continue to double up on the vacant rounds.
We also need understudies for all the tasks associated with producing The Review:  editorial, advertisements, distribution.
Please seriously consider volunteering your help so that ECRA can continue its good work. You are welcome to come to a Committee meeting before making a commitment.
Charles King           Chair:  East Coulsdon Residents' Association
Contact: Charles King, Tel: 01737 554841 or Maureen Levy (Secretary), Tel: 01737 555231,
THAMES WATER
Over the last couple of years as part of their Flood prevention programme Thames Water constructed a number of retention tanks on the sewage system in Coulsdon. These tanks can fill at times of heavy usage or heavy rainfall which is more prominent these days and then discharge when the flow of sewage and rain water subsides.  All these tanks have been very successful except for the one at the beginning of Reddown Road between Marlpit Lane and Fairdene Road. This tank has filled on a number of occasions, but failed to empty when the flow subsided and unfortunately this has affected a small number of properties in Reddown Road.  This has resulted in the tank having to be emptied by Tanker to prevent flooding of sewage in houses in Reddown Road. Thames have visually inspected them and also inspected it with CCTV on a number of occasions and tell us that the internal flow control mechanism becomes jammed by a mixture of wet wipes, disposable nappies and coking fat. We are still in discussion with Thames Water to try to resolve this problem.
ECRA RULES
THE EAST COULSDON RESIDENTS' ASSOCIATION :
RULES 1
1. The Association shall be called "THE EAST COULSDON RESIDENTS' ASSOCIATION"
2. AIMS :
(a) To advance and protect the interests of the Residents and enhance the amenities of the district.
(b) To ascertain the opinions of the Residents and to lay such opinions before the appropriate Authority when desirable.
(c) To promote such cultural and social activities as may from time to time be deemed desirable.
(d) To co-operate with other Organisations in any of these aims.
3. The Association shall be non-party and non-sectarian.
4. All adult Residents in the East Coulsdon Area (as defined by the map on the web site) shall be eligible for membership.
5. The Executive Committee has the right to refuse or revoke membership of persons who act contrary to the aims of the Association.
6. The minimum annual subscription shall be such as is recommended by the Executive Committee from time to time and approved by the Annual General Meeting, which shall cover all adult members of the same family unit resident at the same address. Subscriptions are due on 1st April in each year and payment thereof shall constitute membership "except those excluded under rule 5".
7. The Officers of the Association shall be a Chairman, Vice-Chairman, Honorary Secretary, Honorary Treasurer, and such Assistant Honorary Secretaries and/or Treasurers as may be considered necessary, all of whom shall be elected at the Annual General Meeting.
8. The Executive Committee shall consist of the Officers, together with up to fifteen other members as the Annual General Meeting shall determine; five to form a quorum. The Executive Committee shall hold meetings as required, and shall have power to co-opt members either to fill vacancies on the Committee or in a consultative capacity.
9. In the event of a vacancy arising, the Executive Committee shall have the power to co-opt members until the following Annual General Meeting.
10. The Treasurer will be responsible for the Accounts and cheque books. All cheques will require two signatures from authorised officers.
11. Any nominations for Officers, other members of the Executive Committee and Honorary Auditor made before the Annual General Meeting must be in the hands of the Honorary Secretary in writing seven clear days prior to the date of that meeting.
12. The Annual General Meeting shall be held in May or June. Further Special General Meetings shall be held whenever the Executive Committee so decide.
13. An Extra Ordinary General Meeting may be called at any time on application in writing, stating the object for which such General Meeting is desired and signed by no fewer than twenty members. No business other than that stated on the Agenda shall be dealt with at the Meeting.
14. The Audited Accounts for the previous year ended 31
st March shall be presented to the Annual General Meeting and an Honorary Auditor shall be elected at that meeting to act for the current year.
15. Notice of each Annual General meeting with the Agenda and Audited Accounts shall be available to Stewards and be published on the web site at least fourteen days prior to the date of the meeting. At least seven clear days" notice shall be given of other General Meetings.
16. The Association shall not be dissolved except by the vote of two-thirds of the members present and voting at a General Meeting, on the Agenda of which shall appear the question of dissolution.
17. On dissolution any surplus funds shall be paid to local charities to be decided by the outgoing Executive Committee.
18. No alteration to these Rules shall be made except by a two-thirds majority of those present and voting at a General Meeting, on the Agenda of which shall appear the proposed alterations. No Rule shall be amended within twelve months of a previous decision on a proposal to amend such Rule, except upon the recommendations of the Executive Committee and all notices of suggested alterations shall be sent to the Honorary Secretary in writing at least twenty eight days prior to the AGM.
19. The Executive Committee shall have the power to discuss and act upon any matter consistent with Rules 2 and 3.
20. The Executive Committee shall have the power to appoint sub-committees as may be deemed advisable for special purposes, and if considered necessary may co-opt on such sub-committees any member or members of the Association. The Chairman and Secretary of the Association shall be ex-officio members of all sub-committees.
21. Only the Executive Committee or persons authorised by the Executive Committee have the authority to speak for or act on behalf of the Association.
22. Any person purporting to represent the Association without the Authority of the Executive Committee will have their membership revoked.
23. Decisions at General or Committee Meetings, except where otherwise provided for in these Rules, shall be taken by a simple majority vote of members present and voting. Voting shall be by show of hands unless a ballot is demanded by at least a third of the members present.
Adopted AGM June 2010